Struggling students and their families have a hard time accessing and navigating the maze of public and private services. There may be ample resources in a community, but rarely is there someone on the ground who is able to connect these resources with the schools and students that need them most. Through a school-based coordinator, we bring community resources into schools to empower success for all students by removing barriers for vulnerable students at risk of dropping out, keeping kids in schools and on the path to graduation and leveraging evidence, relationships and local resources to drive results.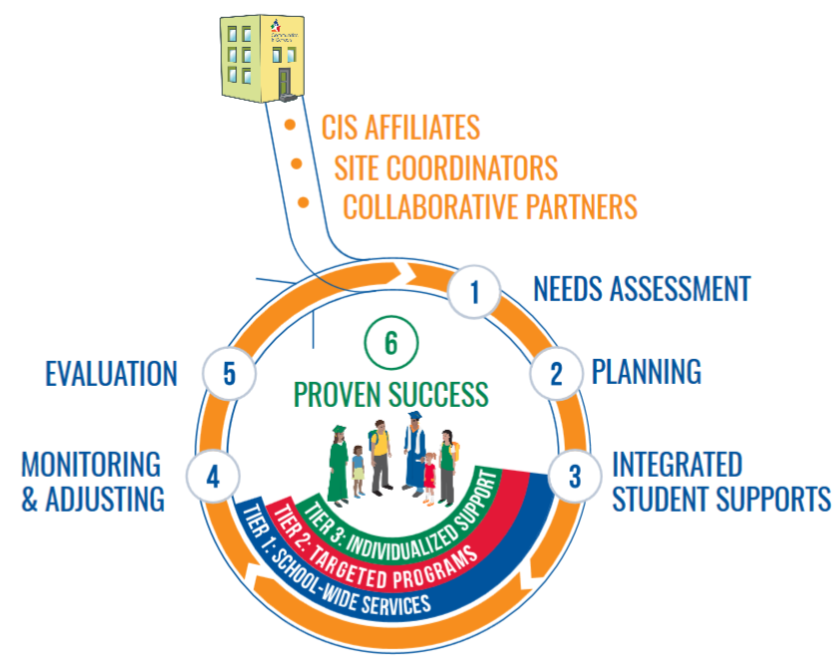 CIS AFFILIATE
Hires and trains Site Coordiantors, brings the CIS model to schools in need and mobilizes partners to provide resources.
Read more.
SITE COORDINATORS
A trained professional who works with school administrators to assess needs, develop a plan and build a team to provide supports to schools and students.
Read more.
COLLABORATIVE PARTNERS
Schools, businesses, and community agencies all work together with Site Coordinators to deliver supports to students and families.
Read more.

The site coordinator fills a pivotal role as the single point of contact working inside the school coordinating and providing integrated student supports. They work with school leadership and staff to connect students and families with community resources that help to address both academic and nonacademic needs, allowing students to show up healthy, safe, and prepared to learn.


We find that when we bring the right people to the table, we are able to surround students with a community of support, empowering them to stay in school and achieve in life.